Card-Fi-Copy
Card-fi-copy is an application that allows you to copy pictures and videos from a
Transcend Wi-FI SD or
Toshiba FlashAir Card

over your local network to your PC. The files will not transmitted over a server in the Internet.
The transfer will take place only in your local network. All you need is the Wi-Fi SD card, a functioning Wi-Fi network, a Windows or Mac PC and Card-Fi-Copy.
Functions at a glance: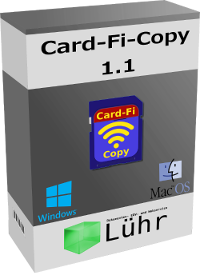 Automatic copying of images, videos, etc..
Image preview for JPEG images with automatic
Rotate the images (portrait / landscape)
Creating subfolders (such as year/month/day or source directory),
depending on the file creation date
Recognize the IP address of Wi-Fi SD Card on the network
Read the source directories on the SD card
Recursive scan in the source folder
Copy new records or at intervals
Automatic reconnect and download after disconnect
Automatic start of the software with Windows
File filter (JPEG / movies / misc.)
You can order the software here. A Demo version is also available.
Picture gallery Windows version:
Picture gallery Mac OS X version: